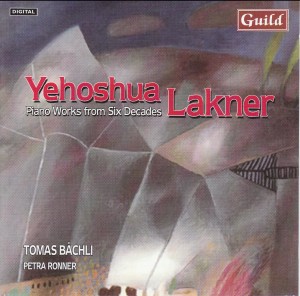 ID:
GMCD7214 (EAN: 795754721423) |
1 CD
|
DDD Publi: 2001
LABEL:
Collection:
Subcollection:
Compositeurs:
Interprètes:

BÄCHLI, Tomas (piano) | RONNER, Petra (piano)

Pour plus amples dtails:


Tomas Bächli & Petra Ronner - Piano
LAKNER, Yehoshua (b. 1924)
Three small piano pieces (Drei kleine Klavierstücke, 1947)
1.
Dance - Allegro
1:44

2.
Fairytale - Andante
2:30

3.
Finale-Allegro-Presto
2:27

Five Birthdays (Fünf Geburtstage, 1965)
4.
To Mary - 6th December
0:58

5.
To Hermann - 11th April
0:58

6.
To Galila - 28th June
0:52

7.
To Luzzi - 27th February
1:01

8.
To Franz - 16th March
0:45

Fermatas (for piano, 1977)
9.
Fermatas (Wait till silence settles
6:55

Cornerstones - To Yahli (nineteen easy polyphonic studies for piano solo, 1946)
10.
morning star - andante
0:23

11.
catch me - allegro
0:25

12.
at the spring - moderato
0:24

13.
shepherds' dance - allegro
0:23

14.
in the woods - moderato cantabile
0:25

15.
round dance - allegretto
0:23

16.
miss charming - grazioso
0:27

17.
obstinate tune - allegro risoluto
0:25

18.
saucy - allegro
0:13

19.
on the shore - moderato
0:47

20.
pastoral - andantino
0:32

21.
mocking song - (no tempo marking)
0:13

22.
pony - allegretto
0:05

23.
dusk - moderato cantabile
0:30

24.
in a hassidic vein - allegretto
0:32

25.
a la J. S. B. - allegro moderato
0:26

26.
meditation - serioso
0:47

27.
a la russe - andante
0:29

28.
farewell - moderato
0:42

Alef Beth Gimmel - moderato (1991-1992)
29.
To Tomer Lev
11:11

Circles and Signals - Andante (Kreise und Signale, 1985) To Margrit
30.
Circles and Signals - Version 1
13:32

31.
Circles and Signals - Version 2
13:58
Yehoshua Lakner was born on April 24th 1924, in Bratislava, Czechoslovakia, where he received his primary and secondary school education. At the age of seventeen, in 1941, he emigrated to Israel (that time Palestine) - and was lucky to do so, for by that time, of course, the Nazis controlled that part of the country, and especially Bratislava, completely. With the help of his older brother Marcel, Lakner continued his musical education in Palestine, which had been interrupted by the events in Europe. He studied with Alexander Uriah Boskovich, Ödön Partos at the Tel Aviv (later the Israel Rubin) Academy of Music, and with Frank Pelleg in Haifa and Jerusalem. Lakner joined the staff of the Tel Aviv Academy in 1950, and in 1952 travelled to the United States, participating as an Israeli delegate at the International Arts Program at the Institute of International Education, and studied with - among other composers - Aaron Copland at Tanglewood. Two subsequent grants in 1959/60 enabled Lakner to work in the studio for electronic music at West-German Radio in Cologne with Karlheinz Stockhausen, Gottfried Michael Koenig and Mauricio Kagel. He also studied there with Bern-Aloys Zimmermann.

In 1963, Lakner moved to Zürich. From 1965, he composed the music for all the productions directed by Maria von Ostfelden (d. 1971) at the Theater an der Winkelweise (including plays by Vitrac, Ionesco, Nestroy and Arrabal). Lakner also wrote incidental music for two other theatres in Zürich, the Schauspielhaus and the Theater am Neumarkt. From 1974 to 1987 Lakner taught at the Zürich Conservatory and Academy of Music. In 1998 he donated his manuscripts to the Central Library in Zürich.

Numerous distinctions have been conferred on Yehoshua Lakner, including the Engel Prize from the city of Tel Aviv (1958); in 1959 the Zürich municipal corporation honoured his work for the theatre (1969); he was the recipient of the Salomon David Steinberg Foundation's music prize, and the city of Zürich awarded him a scholarship (1987/88). Lakner's output has increased vastly since 1987, but he had also composed important works before then, including a Sonata for flute and piano (IMP; 1948), a Sextet for piano and woodwinds (IMI 09; 1951), 'Improvisation' for solo viola (IMP; 1952), Toccata for orchestra (IMP; 1953), 'Hexachords' for woodwind, brass and strings (IMI 171; 1959/60), and notably his unique electro-acoustic music for the theatre in Zürich between 1965-72. Lakner's interest in computer music began in 1985 and intensified in 1987, when he embarked upon a series of 'Audio-Visuelle Zeit-Gestalten' (or AVZG, the abbreviated form by which he prefers to designate these new forms) - a series of works combining music and computer graphics.

Yehoshua Lakner's music for piano documents a creative period of more than half a century, ranging from the early contrapuntal studies "Corner Stones" (SME; 1946), the "Three Piano Pieces" (SME; 1948, premiered by Frank Pelleg), which were still in a neo-classical vein, recalling Bartók, and the "5 Birthdays" (IMI 133; 1965), in which Schönberg's influence can be heard, to the late, highly individual "Fermaten" (IMI 6177; 1977), "Kreise und Signale" (SME; 1985) and "Alef, Beth, Gimmel" (SME; 1991/92). Despite the marked stylistic differences between the pieces on this CD, they have one thing in common: they are pure, sounding structure, born of a playful approach to rules and sonic material. This is a crucial factor in Lakner's work - not, however, the playfulness of a carefree or childish nature, and certainly not due to any lack of expertise. To Lakner, this 'playfulness' is important and necessary, expressing the seriousness of life, of its non-linear, poetic logic. Something that tells us of the freedom of self-imposed rules, of the joy of accepting chance as an ardent creative partner, and of the pleasurable awareness of its structural proposals. This music is pervaded with gravity and mirth, with poetry and subtle humour.

For example, 'Kreise und Signale' ('Circles and Signals') has a variable form, wherein the players are partners in the structuralisation, as well as the interpretation, of the piece. This requires of them a special alertness and an ability to react. Every interpretation sounds new, unique, as can be heard in the two versions of the piece on this CD. This formal openness to the point of guided chance is a feature of almost all Lakner's works of the last three decades, and particularly in his computer music. "Fermaten" is composed down to the last precise detail, but gives the player an opportunity to influence the way the piece sounds. Opposites bounce off one another: tense, faltering movement, hard sforzati, constantly renewed and experienced lulls and lingerings. The music's inner, emotional tension changes all the time, and the simple, chromatic material presented at the beginning passes through some dramatic situations in the piece's brief seven minutes - but there is no drama, for Lakner's idiom is basically not narrative.

Yehoshua Lakner, writing about his 'Alef, Beth, Gimmel', states: "The whole piece is based on three chords - which I call Alef, Beth, Gimmel. Right at the beginning, we hear the speech-rhythm of these first three characters of the Hebrew alphabet. The piece consists of 'fixed' and 'open' sections. In the 'open' sections the player has certain freedoms of choice." In this way, the composer does not commit himself to a single structure, preferring to permit every interpretation its own independence. Sceptically, Lakner suspects a feigned unity behind every through-composed entity, for - at the latest since James Joyce - it must be questioned "whether reality can be comprehended at all, other than in fragments." To Lakner, variable form and polymorphism are possible ways "of avoiding this uneasiness. This 'unity' is replaced by something else: the uniqueness of every performance. Perhaps then, one day, by some happy chance, we might have true wholeness - from spontaneity of performance?" The remark comes from a short fundamental programme-note on open form, written for the premiere of 'Kreise und Signale'. 'Alef, Beth, Gimmel', is so far his last purely instrumental work before he turned to computer music composition. And it is a highlight of his instrumental oeuvre. Perhaps it is not so very far-fetched to cite Psalm 119, whose skillfully crafted sections begin with the letters of the Hebrew alphabet? To envisage the creative power behind every letter from Alef to Tav? We sense it directly, sensuously, in the first chords of the piece, which echo the "Alef, Beth, Gimmel" rhythm. And we sense its presence in the entire work.
Alfred Zimmerlin, 2001 Translation: R. Koenig

Composer's suggestion:

In case the entire CD or a large part of it is to be played back during a session, it is advisable to divide the 19 small pieces of Cornerstones into 3 or more groups and to insert these between the longer pieces. We had very good results with this arrangement of the programme - an arrangement which, on the CD, corresponds to a Spielliste' - at a concert in the Lesesaal of the Zentralbibliothek in Zurich on November 14, 2000. On this occasion the pianist Thomas Bächli played all the pieces on this CD, except 'Kreise und Signale', since it was composed for 2 pianos.