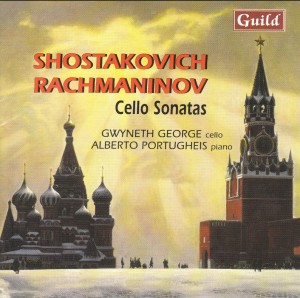 ID:
GMCD7219 (EAN: 795754721928) |
1 CD
|
DDD Released in: 2001
LABEL:
Collection:
Composers:
Interprets:

GEORGE, Gwyneth (cello) | PORTUGHEIS, Alberto (piano)

Other info:


Recorded: Christ Church, Chelsea, London on 26-27 October 1970 (Rachmaninov) & 16 February 1971 (Shostakovich)

While the two cellos sonatas featured on this disc represent pillars of the 20th century Russian cello repertoire, they each symbolise opposite stylistic poles. Rachmaninov's sonata is late-Romantic with richly harmonized, virtuoso piano writing matched by cello; that by Shostakovich by contrast, is neo-classical in approach, imbuing familiar forms and gestures with startling new significance: extremes of instrumental ranges, pared down textures, elusive ambiguous tonality and caustic irony. For all their differences however, they share a warm lyricism and affinity for the cello's tonal and colouristic capabilities, and its intense dialogical relationship with the piano, qualities which have endeared these duo masterpieces to performers and music lovers alike.
RACHMANINOV, Sergey Vasil'yevich (1873-1943)
Sonata in G minor for cello & piano Op. 19
1.
Lento - Allegro moderato
9:16

2.
Allegro scherzando
6:08

3.
Andante
5:15

4.
Allegro mosso
9:53

SHOSTAKOVICH, Dmitry Dmitriyevich (1906-1975)
Sonata in D minor for cello & piano Op. 40
5.
Allegro non troppo
8:34

6.
Allegro
3:16

7.
Largo
8:05

8.
Allegro
3:59
Sergey Rachmaninov (1873-1943)
Sonata in G minor for cello and piano Op.19

I Lento - Allegro moderato II Allegro scherzando III Andante IV Allegro mosso

Rachmaninov's chamber works, unlike the vast corpus by Shostakovich, are few in number, yet form an important part of his oeuvre. In the earliest works such as the Trio Elegiaque no.1 of 1892, the piano dominates, but already from the Trio Elegiaque no.2, composed in 1893 as a memorial homage to Tchaikovsky, the medium is handled more equally, as also in the op.2 miniatures for cello and piano and the Romance in f minor. In the cello sonata of 1900 the piano's virtuosity is more than matched by the prominence assigned to the cello. 1900 was the year of Rachmaninov's renewed inspiration, following three fallow years, the result of depression at the disastrous 1897 premiere, under Glazunov, of his First Symphony. Thanks to daily hypnotherapy with Dr Dahl, over several months, he felt well enough to begin work on the 2nd Piano Concerto, following this soon after with the Suite for Two Pianos no2, and the Cello Sonata. It was dedicated to his friend Anatoly Brandukov, the cellist who had premiered the Trio Elegiaque no.1 in 1892 (together with violinist David Kreyn), but since Dr Dahl was also an amateur cellist, one may perhaps speculate that is was a veiled expression of appreciation.

Within a masterly handling of classical sonata design there lies in this work a passionate Romanticism of heartfelt intensity and melodic warmth, notably in the Andante, yet also in the warm melodies of all four movements and the intensity of its highly emotional rhetoric, which evoke a similar sound-world of the 2nd Piano Concerto and 2nd Suite. Perhaps it is also not coincidental that the work was composed only months before Rachmaninov's marriage to his cousin, Natalya Satina.

The later passion is hinted at in the searching dialogue of the slow introduction, while it is the cello which presents the broadly lyrical phrases of the main first subject, against which the piano's swirling accompaniment brings to the foreground a rhythmic chordal idea that becomes increasingly important. It forms the link into the tender second subject, initiated by the piano and immediately imitated by the cello. With its poignantly simple stepwise contour the tune's nostalgia is both reminiscent of the 2nd Piano Concerto, and also presages the 3rd. After further development in which the piano leads, with the cello adding emphasis with sustained high notes, the dramatic development ensues, based mainly on a two-note motif from the first subject. Exchanged in dialogue in ever more exciting sequences, at its climax, marked by cello's use of pizzicato, momentum suddenly ceases. This dramatic moment calls for renewed passion, that builds gradually in a series of rising phrases, towards a truly majestic climax reminiscent of the famous C sharp minor Prelude, composed in 1892. Here the chordal motif is powerfully emphasises, until it leads, as before into the calm and beguiling second subject. After this higher recapitulation, the coda's magical, Russian harmonies bring both instruments towards a fiery final flourish.

The second movement, marked 'scherzando' has a fantastical character. It alternates between a menacing, wildly syncopated theme delicately placed above an electric fizzing pedal point, (the flying horses hooves across the stormy forest of Schubert's Erlkönig perhaps) and beautifully mellow cello melody enlaced by he piano's iridescent and rich arpeggio textures. In the second appearance even more glowing radiant, and poetic, before the piano's exciting cadenza cascades the movement back into the romantic drama. This third time enriched with octaves. A final appearance of the tender theme and the fizzing opening theme, until the music fades into the distance.

The Andante's heartfelt melody encapsulates Romantic nostalgia in its mingling of major and minor harmony, of joy and pain. Introduced by the piano and echoed by cello over the tender rocking accompaniment it blossoms in the ensuing dialogues, rising to an impassioned, full-blooded climax, the piano's high-chords countered by the cello's sustained bass notes. Tension recedes briefly, only to well again to another tidal wave of intensity.

A more extrovert ebullience radiates from the finale's sonata design, which contrasts a buoyant theme in piano and cello and a warm second subject for cello, repeated over the piano's delicate filigree then stated by the piano in noble chords. The darker development, as in the first movement, builds to dramatic climaxes, but there is a searching interlude where the piano develops the main rising four-note motif with cello commentary. A climactic return to the first theme marks the recapitulation and rounds of the work, with just a further moment of introspection before the final phrase, in a stirring and affirmative mood.

Dmitry Shostakovich (1906-1975)
Sonata in D minor Op.40 for Cello and Piano
I - Allegro non troppo II - Allegro III - Largo IV - Allegro

The cello sonata was one of Shostakovich's early works, composed in 1934 just prior to his censure by Soviet authorities of his music, notably the opera Lady Macbeth of Mtensk, that was deemed too bourgeois and decadent for the Soviet people. It was also a period of emotional turmoil in his life, as he had fallen in love with a young student at a Leningrad festival featuring his Lady Macbeth. Their affair resulted in a brief divorce from his wife Nina, It was in August, during their period of separation, that he the cello sonata, completing within a few weeks and giving its premiere in Moscow on 25 December with his close friend the cellist Victor Lubatsky its dedicatee. By the next Autumn Shostakovich and Nina had remarried, she pregnant with their daughter, who was born in 1936.

The sonata form first movement contrasts a broad first theme in cello, accompanied by flowing piano arpeggios, developed by the piano towards an intense climax. As tension abates, a ray of light appears with the tender second theme, with unusual tonal shifts, announced by the piano and imitated by the cello. In the development a spiky rhythmic motif penetrates through the flowing textures of the first theme, but soon the gentler second theme reappears. All seems in order, until however, convention is cast aside as Shostakovich introduces a dramatic twist: cosmic chaos where all moves in slow motion, staccato chords in the piano, sustained notes in the cello, space-walking towards infinity.

The second movement has a perpetual motion energy, its thrusting repeated ostinato pattern relentlessly shared while a delicate first theme - almost incongruous - is presented by piano in widely spaced octaves, a sonority often used by Shostakovich. The cello's more light-hearted theme is later imitated, Pierrot-like up in the piano's brittle high register. Piquant wit abounds in familiar classic

al gestures set askew, sudden lurches into unrelated keys, until the initial driving ostinato resumes, leading to a sudden conclusion.

The bleak expanses of Russia are evoked in the soulful slow movement, piano providing a dark backdrop for the cello's rhapsodic, vocal theme. It is one of the earliest examples of a mood that was to feature in many of Shostakovich's most powerful works, reflective introspection through icy dissonances that touch yet do not settle on warmer consonances, until the music eventually fading into the impressionistic twilight.

Caustic wit colours the brief yet ebullient finale, a type of rondo in which the main playful theme appears three times, imitated by both instruments, interspersed by episodes full of sparking scales. In the second of these, the piano is let loose in a cadenza of helter-skelter zest, ebulliently veering into unexpected tonal highways. The theme returns, to round the movement off in abrupt yet decisive brilliance.
12.00
eur
Temporarily out of stock