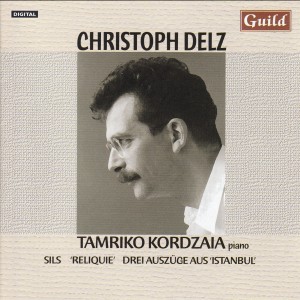 ID:
GMCD7297 (EAN: 795754729726) |
1 CD
|
DDD Released in: 2005
LABEL:
Collection:
Subcollection:
Composers:
Interprets:

KORDZAIA, Tamriko (piano)

Other info:


Recorded: Radio Studio Zürich, 7-8 April, 2004

Christoph Delz was a pianist as well as a composer. He was born in January 1950 in Basle and received instrumental and theoretical lessons early on in life. He interrupted his time at grammar school to acquire his teaching as well as his concert diploma for piano in Basle. He then took his A-levels. From 1974 to 1981 he continued his studies in Cologne: piano with Aloys Kontarsky, composition with Karlheinz Stockhausen, conducting with Volker Wangenheim. Occasionally he had lessons in composition with Henri Pousseur in Ličge, at the same time working for an electronic studio at the academy of music in Cologne with Hans Ulrich Humpert. He also stayed in Cologne after his actual studies. Christoph Delz did not return to Switzerland until 1989, where he lived in a large house in Riehen near Basle for the remaining four years of his life. During this time, the life of Christoph Delz was dominated by the final stage of his aids infection. Two works were created during this time in Riehen, the "Joyce-Phantasie" ("Joyce Fantasia") op. 13 and "Istanbul" op. 14 - and in addition the completion of the Schubert fragment. Christoph Delz died in Basle on 13 September 1993.
It becomes quite clear, even from this brief summary, that the piano played a central part in the life of Delz. It is taken into account in almost all his work: in chamber musical instrumentations, as a concert solo instrument with orchestra, as a partner instrument in vocal works, and once even reduced to a percussion instrument. Thus it is not a coincidence that the very first work by this pianist-composer was a piano piece. Opus 1 titled "Sils", lasting just under 12 minutes can only have been written by someone, who knows the piano very well from all sides; only a pianist is able to achieve such differentiated sound effects. And perhaps it is only possible for an experienced interpreter to develop such a sense for temporal proportions, for the expansion and sequence of individual tonal processes as a composer. In addition, the title "Sils" indicates an inspirational source for this music. Christoph Delz spent many a holiday in Sils in the Engadine. He concerned himself with the Upper Engadine in an artistic way, both as a painter in pictures as well as a composer with sounds. In the music from "Sils" there is the one sentence before the piece begins: "Composed from ideas for sound during a walk across the frozen Lake Silser in the Upper Engadine (Switzerland)".
During the last months of his life Delz occupied himself with a piece of work of monumental historico-cultural expanse: "Istanbul" for soprano, baritone, solo piano, choir and large orchestra (with all kinds of special instruments ranging from the alto oboe to the baroque harp). Delz is at his most independent where he keeps closest to legacies, "Reliquie" (relic), to the history of music and literature or to experiences made with the world surrounding him.
"Istanbul" is a code for a place where different cultures and religions and with them different music and literature from all times encounter one another. "Istanbul" as a metaphor for the meeting of the ancient world, Christianity and the modern world, in the neighbourhood of the town of Troy, around which an archaic war had been fought, in which all utterances of negotiating and suffering had already occurred, vividly described by Homer in his epics. In Delz' work, which lasts a good three-quarters of an hour, texts from the "Odyssey" meet with love poems from the ancient Roman world and famous parts from the bible, plus a poem by Hölderlin, even an excerpt from Tschaikowsky's opera "Eugen Onegin", and also a speech made by a national socialist prime minister from 1942 during the war. These texts are intermingled with each other and in addition with curses and text extracts from dietary plans. All in all, it is about suffering and hunger, about masculinity, death and salvation, and at the end of both halves of this work there is the Luther choral "Mitten wir im Leben sind, mit dem Tod umfangen" ("We are in the middle of life, surrounded by death").
When Delz returned from Cologne to Basle in 1989, he planned an increasing number of concerts on a domestic scale. Perhaps there was the justified fear in the back of his mind that playing publicly might no longer be possible for him in the future. It is possible that the "Drei Auszüge aus Istanbul für Klavier oder Synthesizer" ("Three scores from Istanbul for piano or synthesizer") were created for such a performance. They go back to movements 1, 6 and 12 and are truly scores: the first movement "Ein Nachmittag in Istanbul" ("An afternoon in Istanbul") is a piano score of the initial movement from "Istanbul" with three short additional inserts of few bars each. The movement "Apotheose" "Apotheosis" is an extended adaptation with internal repetitions only of the piano voice of that original movement with strong choir participation, and in "Misterioso and Signatur" the "score" follows the original voice of the baroque harp and afterwards summarises its own piano voice up to the open cadence chords, which round off the entire work.
After completing "Istanbul", Christoph Delz, already close to death, turned more intensively to a single piece of work and therefore to a composer of the past, the sonata in C major D 840 by Franz Schubert. It was created, together with two further sonatas in April 1825, but Schubert did not finish the third movement (minuet) and the finale (rondo). For this reason, the piece of work already received the epithet "Reliquie" ("Relic") in the 19th century; this sonata was even considered Schubert's last piano work.
The scherzos and/or minuets of the other two sonatas from spring 1825 have a simple ABA form, i.e. roughly the sequence minuet, then trio and afterwards the word-for-word repetition of the minuet part. The trio in G sharp minor from Schubert's "Reliquie" has completely survived, there are twenty bars or a few more missing from the minuet part. Christoph Delz completed the fragment whilst preserving the original material as far as possible, but in such an order that another fragment resulted from it. First he copied Schubert's fragment note by note. Where it breaks off, he changed the tone F sharp into an e, which can then directly and without any further addition move to the D sharp at the beginning of the trio. After the trio, however, the minuet does not connect from the front, but instead Delz begins in the middle of an intensified phase, more precisely: from bar 44 on. From this point on he takes over the original word-for-word: after 14 bars the confusions start: the following bar is compressed, a bar excerpt from the trio links up, a minuet bar, a newly composed 6/8 hemiole time and a Ľ time as a joint. All these detours replace bar 59 of the original, there follows a continuation until the original breaks off. This time he changes the point differently: the original F sharp becomes an f, and after two additional bars the minuet starts from the beginning. The beginning is thus played bar by bar again up to the point where the minuet has set in again after the trio, then the movement breaks off, and the rondo finale follows directly.
At first the arrangement follows the original for 146 bars. Then a quaver is inserted: 1/8 time. From then on interferences pile up: bars sound in slow-motion and are then corroded after all, single tones and ranges of voices are lost, the dynamics are changed: forte turns into pianissimo, articulation is interfered with; pauses are added, change of time, even changes in tempo determine the movement which is increasingly falling apart. Suddenly only the first bar halves are played, the second crammed together to a chord, and above them it says in the notes: "Mahler?" This point is a first part, as it were penetrating from the outside. Such short parts will alternate in the sequence with longer phases, which are oriented more towards the original. The second such foreign point brings bars from the minuet trio into reverse, i.e. bars 7 to 5 and 27 to 16. After this confusion of place and time the rondo theme is heard as a false start, but only for 6 bars. And now the crucial part of this completion starts: from now on whole parts are played backwards again and again from where the fragment breaks off, not only bar by bar, but note by note, i.e.: melodic characteristics, rhythm and harmony are so twisted that hardly anything from the original remains perceptible. In between the reverse keeps getting mixed up: the pianist gets hooked on one tone, pauses slip in, whole pause bars, and still foreign bodies penetrate this backward movement. This course stretches from the back end of the fragment backwards to nearly the beginning. The last melody notes lead into an excerpt from the "Unvollendete" ("Unfinished") symphony by Schubert, a point from the execution of the first movement. There follows a melody. Delz wrote above it again: "Mahler"?. In truth, however, it is not a Mahler excerpt, but the main theme of the head movement of the entire "Reliquie" sonata. This pseudo excerpt submerges into the pianissimo - the movement has ended.
Christoph Delz, the composer, whose life will end before it is completed, completes an unfinished composition by leaving it unfinished, even finishing with an excerpt from the "Unvollendete". The piece which began as the arrangement of a fragment but was really newly composed, finally blows itself up, it manages a quick jump into another excerpt, but has used up its energy, has eaten itself up from inside just like a slowly dying body. As in "Istanbul" the composer Delz has projected himself and in particular his aids infection into the work of art, not as a euphemistic stylisation, but as a relentless portrayal of what was threatening his life.
DELZ, Christoph (1950-1993)
1.
'Sils' op.1 for piano (1975)
11:24

SCHUBERT, Franz (Peter) (1797-1828), (completed by Christoph Delz)
Sonate C-Dur op. posth., D 840 (1825) 'Reliquie'
2.
Moderato
13:17

3.
Andante
9:04

4.
Menuetto: Allegretto
4:25

5.
Rondo: Allegro
11:25

DELZ, Christoph (1950-1993)
Drei Auszüge aus 'Istanbul' (1993)
6.
Ein Nachmittag in Istanbul
4:39

7.
Apotheose
7:58

8.
Misterioso und Signatur
1:31
12.00
eur
Temporarily out of stock