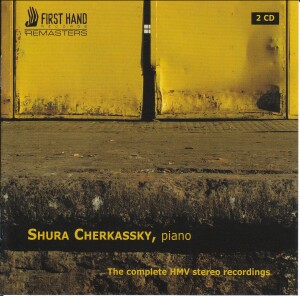 ID:
FHR04 (EAN: 5060051619465) |
2 CD
|
ADD Released in: 2009
LABEL:
Collection:
Subcollection:
Composers:

BACH, Johann Sebastian | BEETHOVEN, Ludwig Van | BUSONI, Ferruccio Benvenuto | CHASINS, Abram | CHOPIN, Frédéric François | GERSHWIN, George | GODOWSKY, Leopold | LISZT, Franz | LITOLFF, Henry | LYADOV, Anatoly Konstantinovich | POULENC, Francis | RACHMANINOV, Sergey Vasil'yevich | SAINT-SAËNS, Camille | SCHUBERT, Franz (Peter)

Interprets:

CHERKASSY, Shura (piano)

Ensembles:
Conductors:
Other info:


Like many other artists, the great Russian pianist Shura Cherkassky fled from what became Soviet Russia and settled in the USA. A student of Josef Hoffman, Cherkassky is considered by many critics to be the last great Romantic pianist. This release from the brand-new First Hand Records label is published to commemorate the 100th anniversary of Cherkassky's birth. Most of the tracks here are issued in stereo for the first time and many have never before appeared on CD. This set, which features over two hours of music, is a significant historical classical piano release and provides a major boost to the limited Cherkassky discography currently available.

A 2CD set of Shura Cherkassky's complete and unpublished stereo recordings made for the HMV record label over 50 years ago. Remastered from the original stereo tapes, First Hand Records released the recordings in May 2009, the majority of which have appear for the first time in any format.
Recorded in 1956 & 1958 at Abbey Road Studios, London and remastered there in 2009. The set spans over 400 years of keyboard repertoire, from Bach to Poulenc.

Recorded in Abbey Road Studio No. 3, London, 1956 & 1958, and Kingsway Hall, London, 1958 (Litolff Scherzo)

INTERNATIONAL PIANO MAGAZINE AWARD WINNER FOR BEST REISSUE/VINTAGE RELEASE OF 2009

Issue note:
Throughout his recording career, Cherkassky flirted with different record labels, never really settling with one company. His first recording for an EMI company was in 1929 (HMV) and the last, a recording of the Litolff Scherzo, in 1967 (New World Records). He was wary of the recording studio, feeling happier performing to an audience, which resulted in a comparatively limited discography. Cherkassky was probably at his peak in the mid to late 1950s, just as his career began to accelerate in the UK. These HMV recordings, made in 1956 and 1958, contain some of the earliest EMI stereo recordings, when the technology was still at an experimental stage (EMI introduced twin-track 7.5 ips stereosonic tapes in 1955, followed in 1958 by stereophonic LPs). Quite often, these stereo recordings suffered from technical problems, including equipment failure, which resulted in many recordings not even making it to tape. Some EMI recording sessions from this period were taped in both mono and stereo concurrently, including these Cherkassky recordings. Only the mono versions were intended for immediate release as the equipment for playing stereo LPs was not yet widely available. Indeed, the majority of the tracks on this CD release have only ever been published in their mono versions. The Chopin works, apart from Ballade No. 3, was released on stereosonic tape in 1957 and the Litolff Scherzo appeared in 1963 on a stereo LP entitled "An Evening at the Proms".

The recordings on this CD issue were made at Abbey Road Studios, London (Litolff Scherzo was recorded in Kingsway Hall, London) and remastered there in 2009 using the original EMI stereo source tapes. These tapes had been left dormant in the EMI archive for over 50 years, alongside masses of other unpublished stereo recordings from this era, which still remain untouched.
The preservation of the piano's natural acoustic sound was a vital part of the remastering process. With this in mind, we chose not to make an issue of removing the audible hiss that is present on the tapes, to avoid diminishing the acoustic depth and dynamic range of the piano.

Although remembered mainly for his performances of romantic repertoire, Cherkassky had wide-ranging and sometimes idiosyncratic tastes in programming. Alongside standard repertoire, he was also known to perform music by Boulez, Stockhausen, Ligeti and even performed boogie-woogie! This CD release illustrates this diversity of style in a mixture of musical bonbons, warhorses and encore works spanning three centuries. Cherkassky's trademark lyricism, his exciting unpredictability and his dazzling virtuosity are in abundance throughout this significant historical issue. This is a significant addition to the Cherkassky discography.

CD 1
BACH, Johann Sebastian (1685-1750) arr. BUSONI, Ferruccio Benvenuto (1866-1924)
1.
Chaconne (from Partita No. 2 in D minor for Solo Violin, BWV1004) a b
15:00
BEETHOVEN, Ludwig van (1770-1827)
2.
Bagatelle No. 1 in G minor, Op. 119 b
2:13
SCHUBERT, Franz (Peter) (1797-1828)
3.
Impromptu No. 4 in A flat major, D899 (Op. 90, No. 4) a b
6:10
CHOPIN, Frédéric François (1810-1849)
4.
Mazurka No. 7 in F minor, Op. 7, No. 3 a 1
2:21
5.
Waltz No. 1 in E flat major, Op. 18, "Grande valse brillante" a 2
4:57
6.
Nocturne No. 8 in D flat major, Op. 27, No. 2 a 2
6:07
7.
Ballade No. 2 in F major, Op. 38 a 1
6:50
8.
Ballade No. 3 in A flat major, Op. 47 a b
7:09
LISZT, Franz (1811-1886)
9.
Hungarian Rhapsody No. 13 in A minor, S244 b
8:01
10.
Valse de l'opéra 'Faust' (Gounod), S407 b
9:12

CD 2
LITOLFF, Henry (1818-1891)
1.
Scherzo
7:59
(from Concerto symphonique No. 4, Op. 102) + a with BBC Symphony Orchestra / M .Sargent
SAINT-SAËNS, Camille (1835-1921) arr. GODOWSKY, Leopold (1870-1938)
2.
Le cygne (from Le carnaval des animaux) b
2:49
LYADOV, Anatolii (1855-1914)
3.
A Musical Snuffbox, Op. 32 b
2:21
RACHMANINOV, Sergey Vasil'yevich (1873-1943)
Ten Preludes, Op. 23 a b
4.
No. 5 in G minor 1, 3
3:55
5.
No. 2 in B flat major 1, 2
3:27
GERSHWIN, George (1898-1937)
Three Preludes a b
6.
No. 1 in B flat major
1:26
7.
No. 2 in C sharp minor
3:32
8.
No. 3 in E flat minor
1:11
POULENC, Francis (1899-1963)
9.
Toccata (from Trois piéces) b
2:13
CHASINS, Abram (1903-1987)
Three Chinese Pieces b
10.
No. 1, A Shanghai Tragedy, Op. 7, No. 1 1
5:16
11.
No. 2, Flirtation in a Chinese Garden, Op. 52
2:04
12.
No. 3, Rush Hour in Hong Kong 2
1:20
Appendix
GERSHWIN, George (1898-1937)
Three Preludes a b
13.
No. 1 in B flat major
1:37
14.
No. 2 in C sharp minor
3:14
15.
No. 3 in E flat minor
1:14
CHOPIN, Frédéric François (1810-1849)
16.
Ballade No. 3 in A flat major, Op. 47 a b
7:15
Unlike Vladimir Horowitz, who generally only ever recorded for RCA Victor or Columbia, pianist Shura Cherkassky, sometimes called "The Last of the Great Piano Romantics" in his later years, left a grab bag legacy of recordings ranging from his 78 rpm 1929 HMVs to his final Nimbus Records releases and live recitals, recorded by UK Decca, in the 1980s and '90s. This First Hand Remasters issue, Shura Cherkassky: The Complete HMV Stereo Recordings, collects a specific part of that legacy into a single package. It is not appropriate to refer to it as a reissue as these recordings date between 1956 and 1958 and though made entirely in stereo, the stereo LP itself did not make its bow until the very end of that timeline; even afterward, EMI observed a policy of issuing most of its recordings in mono only. So very little of this material appeared on stereo even on LPs, and very little of it has appeared on CD. From the standpoint of a package, this First Hand Remasters release is everything it should be; the two-disc set is fully documented and comes with good writing and a decent-sized book, which is tempered nevertheless by practical economics. It's overall run time of just under two hours may strike some as a little stingy, but that naturally is dictated by the material itself. The recordings, taken from the first generation stereo masters in the EMI vaults, are excellent though very occasionally some flutter is audible.

The program is very wide ranging and reflects Cherkassky's interests, running from Chopin at one end to George Gershwin and some selections from Abram Chasins' rarely recorded music at the other. About the only issue with this recording might be a subjective one; despite the "Last of the Great Piano Romantics" tag, Cherkassky's playing here is always very clean, straightforward, and well-balanced and he never goes out on a limb in terms of expression. The annotators conclude that this period represents Cherkassky's best work, and it may, but those familiar with his late recordings will note that there are far more instances of risk-taking in that body of work than here. Nevertheless, Cherkassky's fan base will definitely take interest in this, as it provides so much elusive material on this pianist in better sound than ever before, not to mention being generally well done and well worth its value.
Uncle Dave Lewis, All Music Guide