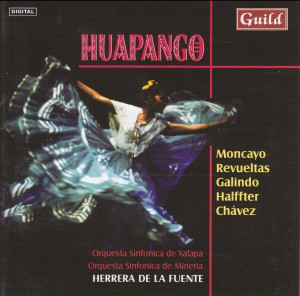 ID:
GMCD7211 (EAN: 795754721126) |
1 CD
|
DDD Released in: 2001
LABEL:
Collection:
Subcollection:
Composers:

CHÁVEZ, Carlos | GALINDO, Blas | HALFFTER, Rodolfo | MONCAYO, Pablo Garcia José | REVUELTAS, Silvestre

Ensembles:
Conductors:
Other info:


Recorded: Sala Nezahualcoyotl, 1981 and 1987

Track 5 - Orquesta Sinfonica de Mineria
MONCAYO, Pablo Garcia José (1912-1958)
1.
Huapango
8:00

REVUELTAS, Silvestre (1899-1940)
2.
Ocho X Radio
5:14

GALINDO, Blas (1910-1994)
3.
Sones de Mariachi
7:46

REVUELTAS, Silvestre (1899-1940)
4.
Sensamaya
6:52

HALFFTER, Rodolfo (1900-1987)
5.
Don Lindo de Almeria
19:16

CHÁVEZ, Carlos (1899-1978)
6.
Sinfonia India (Symphony No.2)
10:30
The formation of a Mexican symphonic style is essentially a 20th century event, even though Mexico had a rich musical tradition in formal composition dating back to the 16th Century. Most of these early compositions were choral, with the vast majority for church use. But, at their best - notably, Hernando Franco (1532-1585) and Francisco López Capillas (1606-1673) - their music reached the level of all but the very finest European Composers. Mexican Composers were writing Baroque - like operas by the early 18th Century. Indeed, Manuel Zumaya (1678-1756) is credited with the first opera written in North America for the 1711 season in Mexico City. Although all such music relied on European models, they at least exposed a deep root of interest. If they were not committed to folk colour, well neither was Europe or North America.

All that changed with the 20th century. The Mexican Revolution brought an increasing awareness of national culture, first from the nation's popular music styles and more gradually an appreciation from their exceptional individuality of native arts dating back to the Maya and Aztec traditions. Subdivide these between the various regions of Mexico, and the possibilities are endless.

The collection offered here seeks to present the most successful orchestral pieces of the 1930s and 1940s. They also give an idea of the approaches as well as their sources. One hears the openly popularistic cantina music of the Huapangos, a symphony drawn from the modern natives of Mexico, and something of the raw macho of the ancient cultures. In moods, they range from blatant charm to outlandish humour, from haunting lyricism to the threatening menace of savage ritual.

José Pablo Moncayo (1912-1958) belonged to an early hand of composers who, like the Russian Five, sought to establish a Mexican School of Composition. They took the name "Grupo de los Cuatro" (Group of Four), to match Russia's Five or France's "Les Six". Born in Guadalajara, Moncayo studied with Carlos Chavéz and Blas Galindo. As with the latter, Moncayo set folk materials at face value. He wrote relatively little, largely devoting himself to conducting as the years wore on, becoming director of the National Symphony for six years. His major works include the opera "La Mulata de Córdoba", the prize winning ballet "Tierra de Temporal", and the popular "Huapango" rhapsody.

Originating in the costal region of Veracruz, the huapango style offers the best known vision of Mexico music. Lively and joyous by nature, the huapango calls for combinations of violins (usually two), harp and an assortment of guitars of different sizes - frequently to be played on the stroll. Moncayo only hints at that instrumental sound as he combines three of the best known huapangos; "Siqui Siri", "Balaju" and "EI Gavilan". The Rhapsody was premiered on August 15th, 1941 by Carlos Chavéz, conducting the Mexican National Orchestra in Mexico City.

Blas Galindo (1910-1993) was also a charter member of the "Group of Four" which sought to promote concerts and music education in Mexico. An important teacher, he served as director of the National Conservatory from 1947 to 1960. In it's original form, his "Mariachi Songs" was scored for chamber orchestra and premiered by Chavéz on an all Mexican Concert in New York's Museum of Modern Art. As the concert was connected to a "Twenty Centuries of Mexican Art" Exhibition, each piece sought to present a fairly literal example of Mexico's music. (Chavéz included his "Xochipilli, an imaginary Aztec Music." Scored for original instruments in the Museum collection of antique instruments). Most such works from the New York Concert were rescored for concert hall. in Galindo's case, that meant full orchestra. The work depicts the style of Galindo's native state of Jalisco, on the southern pacific coast. (Puerto Vallarta, the popular resort on the northern rim of Jalisco. Guadalajara is it's capital city.)

Silvestre Revueltas (1899-1940) was the great raw talent of Mexico during his brief career (who sadly died aged forty of pneumonia). A skilled violinist, he studied in Mexico, and the United States. He worked as a violinist in Chicago (1922-24) before returning to Mexico, where he and Chavéz played recitals. For a period in the late 1920's he returned to the life of a theatre musician in Texas and Alabama before finally settling back in Mexico City as player, conductor and teacher. It was only then at the age of thirty that Revueltas devoted himself to composition, turning out a remarkable body of music during his final ten years. Throughout his life, he also worked selflessly for musicians and 'workers rights', and during 1937 was in Spain to help the loyalist's government. Revueltas by nature, witty and sarcastic introduced the most advanced concepts of dissonant rhythm, texture and harmony to Mexican music. He represented the most individual and original music of his era, music largely free of quotation marks. "Why should I put on boots and climb mountains for Mexican folk-lore", he asked, "if I have the spirit of Mexico deep within me."

"Ocho x Radio" ("Eight times Radio") of 1933 is, in the composer's words, (an algebraic equation without possible solution unless you have extremely good mathematical knowledge. The author has tried to solve the problem using instruments, with a bit of success, which the well versed critics might be able to judge with their usual impartiality). These typical wise cracks, however, belie the fact that the title is fairly literal. "Ocho x Radio" was commissioned for a specific group of eight musicians (two violins, cello, bass, clarinet, trumpet, basson and a drummer) for a radio broadcast for Mexico's Department of Education. The result is a madcap scherzo, with tongue so far in cheek that it virtually hangs out of the composer's ear. By extreme contrast, "Sensemaya" (1938) represents the most serious dramatic side of Revueltas. It calls for expanded full orchestra that contains a small army of percussion instruments, including both standard instruments (timpani, cymbals, gongs, bass drum and such) plus Latin and Indian Instruments (raspador, claves, maracas, gourd, tom toms, Indian drum), and keyboard percussion varieties (xylophone, bells, celeste and piano). Based upon a poem of the Afro-Cuban Nicolás Guillén, and subtitied "Chant to kill a Snake", Revueltas' menacing ritual in sound harps back to Aztec times, and some of the coiled power one sees in the carved snake gods.

Rudolfo Halffter, who was born in Madrid in 1900 but moved to Mexico in 1939, became the first of the important Spanish dynasty of modern composers. Rudolfo and his brother Ernesto born in 1905 both studied with DeFalla, and both adopted a neo-classical style, objective in outline but coloured by the rhythmic and melodic vocabulary of Spain, plus that of their adopted countries following the Spanish Civil War. The main differences are that Rudolfo worked tirelessly as a critic and a musical teacher, while his younger brother became noted as a conductor - especially of modern music. Ernesto settled in Portugal, while their nephew Christobal Halffter (1930) has been largely active in Paris, where he is something of a lion of the avant-garde. The suite from his ballet "Don Lindo de Almeria" became Rudolfo Halffter's frequently performed and popular work shortly after it's 1936 Paris premiere, although more widely admired after the second performance in Barcelona's famous hosting of the 1936 International Contemporary Music Society Festival. (Alban Berg's Violin Concerto and much else; had first hearing at that festival). The full ballet, which represents a light humorous folk plot after writer José Bergamin's little stories had to await it's premiere until 1940, when Anna Sokolov choreographed the work for Mexico City. Halffter seven movement suite form "Don Lindo" offers us an elegantly scored divertimento. Simple titles for the individual movements include; Introduction and First Dance; Scene and Second Dance; Third Dance; Fourth Dance (really an expansion of the opening introduction); Wedding Ceremony (the one true slow movement - a kind of hymn, with a wisp of fugal writing near the close); Fifth Dance and Scene; Closing (obviously) with the Final Dance.

Chavéz (1899-1978) was easily the best known of Mexican composers partly through his tireless work on the world's podiums. "Sinfonia India" (Indian Symphony), the second and shortest of his six symphonies, dates from 1935. The composer conducted the premier on a broadcast of the CBS Symphony on January 23rd 1936, and shortly thereafter with the Boston Symphony. Although played without pause, "Sinfonia India" falls into the expected four movements. Chavéz opens with a brilliant dance piece in irregular scrambled rhythms (the opening pages for example are in; 5/8, 2/4, 5/8, two in 2/4, three in 5/8 and a 3/4). This is followed by a gentle intermezzo (allegretto), a haunting slow movement (poco lento), and a free dance rondo finale during which one episode harks to the intermezzo music.

Besides using themes from the Yaqui, Seri, and Huichole tribes, Chaéz calls for a very large orchestra with woodwinds in fours and a sonically stunning set of exotic percussion from the same tribes. Chavéz includes possible substitutes in his printed score ("soft Rattle made out of a thin paste board"), but includes the originals if they happen to be available. "A string of butterfly cocoons" instead of paste boards, and a string of deer hooves for the rattle, clay rattle, tlapanhuéhuetl, teponaxtles (a kind of xylophone), and the like. Time has shown the indigenous instruments limited for concert use since they sometimes lack the power to project. But a recording in Mexico - where the instruments are (with difficulty available) - offered to delicious a chance. So why not? Hence this release offers the rare opportunity to hear Chavéz's Second Symphony decked out in all it's native finery, cocoons, hooves, tlapanhuéhuetl and all.
12.00
eur
Temporarily out of stock